How we do Product Ideation in just 5 days!
As an advocate and practitioner of lean and agile methodologies, we can form a customer's idea for a mobile app in just 5 days! How do we do this? Careful planning, scripted ideation forums, template deliverable and an obsessive focus on time management.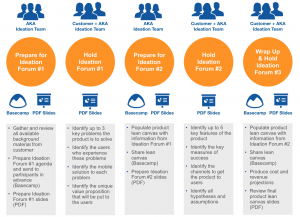 Careful planning upfront to secure and align all participants for the 5-days is key. We run three 2-hour ideation forums on days 1, 3 and 5. We pick a 5-day period that gets the maximum participants. We won't get all. It's rare that we find a 5-day period that aligns with everyone's availability. We do not, however, extend or compress the exercise. We find if extended, we lose momentum and enter a slippery slope for further extensions. If compressed, the quality is affected. We stick to a 5-day period and pick one that aligns with maximum number of stakeholder availability.
Running the three 2-hour ideation forums like a well oiled machine is the next key activity. We have established a repeatable methodology for our three ideation forums. Ideation forum #1 is dedicated to understanding the problem the customer is aiming to solve, for whom, and how. Forum #1 finishes by crystallizing the mobile app's unique value proposition and identifying some early hypotheses and assumptions for it's viability. Ideation forum #2 continues by fleshing out the top 5 key features of the app, the top 5 key success measures and how the app will get in the hands of users is also explored. Forum #2 finishes by understanding the high-level revenue and cost model for the app, if applicable. Ideation forum #3 wraps everything up by reviewing the results of forums #1 and #2 and filling in any gaps any refining any areas.
A lot of information is gathered in a relatively short period of time over the course of 5-days. Presenting the information in an concise, easily digestible manner is key to ensuring everyone is on the same page to avoid any surprises as the idea continues to be shaped and brought to life in subsequent stages. We use the lean canvas model from Ash Maurya. We have found the model outlines the idea very nicely on one simple page. To ensure there's no doubt in anyone's mind about the boundaries of the idea and its direction, we provide supporting notes for each component of the lean canvas model. We have slide deck template to make the documentation easy from project to project.
Finally, we obsess over time management. Time is the enemy. There's never enough of it or there's too much (no customer induced time pressures or deadlines). Either situation can swallow you up. Creating a sense of urgency and managing time effectively to avoid time-sinks, time-wastes and time-delays is critical…and tough! We are rigorous and diligent in keeping ideation forums to 2-hours each, requiring exceptional facilitation skills. We are equally rigorous and diligent in managing to an overall 5-day window (time box). Documentation is produced as we go along in near real-time (the slide deck format is excellent for this). When the final forum concludes, everyone has then and there the documented idea model we'll move forward with. At that point, we're done and we're moving on!
Download a sample Lean Canvas Model that gets produced from our Product Ideation service.
Download
You can download this for free, but if you feel like joining our mailing list for relevant articles, take a moment to fill in your information.
---