How we do UX design in only 7-days!
Everything we do, including UX design, is in a lean and agile way. Three UX design studio sessions held over 7 consecutive days covers the users and their needs, the information and content to satisfy those needs and the visual presentation and interactions with that content.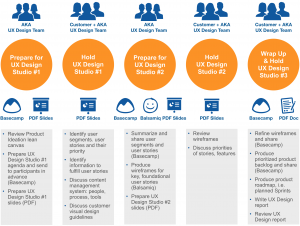 The first UX design studio session takes 3-hours (a full morning or afternoon). In that session, we explore the user segments identified during Product Ideation to better understand the characteristics of each segment. We break down the needs of each segment using the Scrum user story format. For each user story, we identify the information to satisfy the story. We'll later hierarchically structure the information to facilitate easy discoverability. We wrap up the first UX design studio session by discussing the content management system that is (or will be) in place for authoring, publishing and governing content.
After the first UX design studio session, we take 2-days to digest everything gathered and learned and we begin exploring how to visually present the user stories and information architecture. We produce a number of draft greyscale wireframes that we step through in the second UX design studio.
The second UX design studio session also takes 3-hours (again, either a full morning or afternoon). A picture being worth a thousand words, the wireframes help put what was discussed in the first studio session into context. Wireframes usually stimulate robust discussion of the requirements (user stories) and help surface any gaps. Any missing requirements (user stories), information or content are debated and elaborated in the second design studio session.
After the second UX design studio session, we take 2-days again to digest everything learned and to refine the wireframes. We also produce a roadmap for the development of the mobile product. We identify what features to tackle first, which ones next and so on. We estimate the development effort using the wireframes as a measuring stick. With these estimates and priorities known, we put together a high-level schedule of work that we'll track against (and adjust) as the development unfolds and we learn from real-world usage of early released features.
In the third and final UX design studio session, we review the 'plan of attack', the roadmap. This includes going through the backlog of features to be built, the priorities of those features and dependencies. Then and there, we adjust the backlog based upon discussion. We also review the high-level schedule of work and re-estimated budget for that work. Again, any adjustments to schedule are made there in the session. The customer is left with a fully developed UX design at the conclusion of the third studio session.
Download a sample design report that gets produced from our UX Design service
Download
You can download this for free, but if you feel like joining our mailing list for relevant articles, take a moment to fill in your information.
---